Smart Packaging
Smart packaging consists of integrating new functions onto the packaging of a product, or onto a label, to connect the product to the brand and consumers. This connection can be carried out via different devices: visible codes (QR Code, Datamatrix, DotCode), fingerprint of the material, NFC chips or RFID.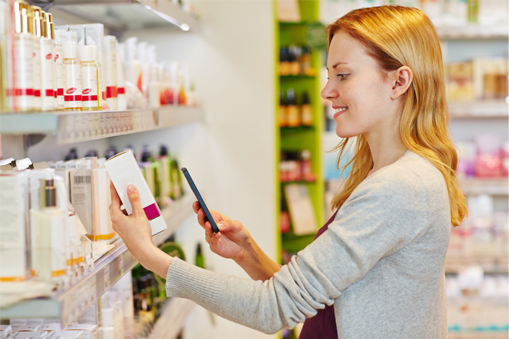 SMART PACKAGING
As a major innovation for the packaging industry, smart packaging is a lever for creating value for brands by integrating advanced features: traceability, product authentication, and direct interaction with the end consumer.
Traceability solutions, which allow to track each product across the entire supply chain, are an initial response to the growing problem of counterfeiting and illegal trade. This scourge affects more and more products and industries, resulting in a loss of revenue for brands and health risks for consumers.
The fight against counterfeiting and illegal trade can be reinforced by product authentication solutions. The most advanced solutions allow to verify, in a certain and instant way, that the product is genuine and that it is not a counterfeit, with just a smartphone. Easy to use by brands and public authorities, smartphone authentication also gives consumers the ability to authenticate a product, which is a major step forward in the fight against illegal trade.
In addition to securing products, traceability solutions enable a thorough optimization of the supply chain: visibility and optimization of stocks, product movement control, management of quality controls, optimization of product recalls, dynamic pricing, et.
Smart Packaging is also a great value-creating tool for customers.  Consumers are increasingly demanding from brands transparency and information about products. The success of applications like Yuka demonstrates that. By connecting the product to the consumer via his smartphone, Smart Packaging allows a brand to engage the consumer, using the product, in a rich and extensive interaction: information on the origin of products, ingredients and components, verification of the authenticity of the product, quality certification, loyalty program, promotional offers…. So many features and value-added services which allow a brand to differentiate itself and build a winning trust relationship with the consumer.
Smart Packaging is therefore rich in added value for brands: revenue protection, cost optimization, building brand value and consumer loyalty.
EDGYN offers complete and integrated solutions for smart packaging and security labels, combining:
Serialization and unitary traceability of products, via visible codes
Verifying the authenticity of a product with just a smartphone, via our material biometrics technology
Web platforms and mobile applications combining traceability, authentication and direct interaction with the consumer
These solutions are suitable for the perfume and cosmetics market as well as for automotive parts, food and beverages, wine and spirits, pharmaceuticals, chemicals, manufacturing and other sectors.
EDGYN delivers integrated turnkey solutions, making implementation easier: Software as a Service (SaaS), cloud-hosted servers, applications available on app stores, ready-to-use serialized security labels, etc.